Deepest Thanks Deeper Apologies
Reconciling Deeply Held Faith with Honest Doubt
New book explores connection between honest questions & spiritual mystery
Nashville, Tenn., July 20, 2011 - Spiritual faith with doubt is an age-old concern that many in the church today would care to ignore. Rather than admit they question their faith and openly seek answers, the church today prefers to feign steadfast belief and create a healthy Christian facade.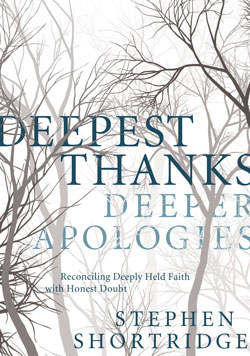 Artist, author and former actor Stephen Shortridge boldly shares his view on spiritual mystery and honest questions in his new book, Deepest Thanks, Deeper Apologies: Reconciling Deeply Held Faith with Honest Doubt (Worthy Publishers, Oct. 11, 2011). Throughout the book, Shortridge calls on Christians to embrace mystery and honestly express their doubts to develop a deeper, richer faith. Not everything in our faith should be easily explained and understood. Instead Christians should acknowledge the mysteries that surround us with a childlike awe.
Shortridge's prayer for his own faith and the faith of his readers is to gain wisdom and to love, believe and trust in the wonderment of God's mysteries. "Doubts aren't the enemy of God," says Shortridge. "God will prove his faithfulness. You will come out stronger for honestly sharing with God; even your doubt."
God created spiritual mysteries when he used "loose and broken brushwork" to form the world. According to Shortridge, as God creates, "a great deal of information is missing, creating mystery that required deep faith to believe and deeper trust to obey." We are invited into this work by God, the impressionist Creator who left much of his work unfinished. Shortridge believes He invited us to partner with Him by using the beautiful colors of His palette, not by scribbling over it with the drab charcoal in our pockets.
Instead of viewing his doubt as a spiritual weakness, Shortridge views his search for answers as true faith. "Deepest Thanks, Deeper Apologies is the difference between who I am and who I am becoming, as well as who I'm not and possibly never will be," says Shortridge. "Gratitude (deepest thanks) and regret (deeper apologies) measure the distance between who I am now and who I will be one day."
Throughout Deepest Thanks, Deeper Apologies, Shortridge calls on the wisdom of theologians and philosophers from Aristotle to Kierkegaard. The book is divided into four sections based on the "Four Stages of Love" described by Bernard of Clairvaux that echo Shortridge's own spiritual journey. He recalls how he tried to understand God, to use God and even worship God for his own benefit. But thanks to God's mercy and faithfulness, in Stage Four, to "love yourself, for God's sake," is receiving God's love, not some form of self-love. Shortridge explains, "After a lifetime of faith, one of the greatest acts of faith is to believe that God really loves us, precisely because we now have enough faith to believe He really does know us."
As Shortridge began to truly know God, he relinquished the need to perform for others, his allegiance shifting to God.
About Stephen Shortridge
Stephen Shortridge has been a professional artist for more than 30 years. In the 70's and 80's he had a successful career in acting, which included appearing in Welcome Back Kotter, The Love Boat and The Bold and the Beautiful. In 1989 he left Los Angeles and acting to pursue his love of art. He has since become a world-renowned painter. His brilliant creativity and profound spiritual insights are reflected in both his paintings and his writing. Stephen and his wife, Cathy, live in Coeur d'Alene, Idaho, where they raised their family and own The Painter's Chair Fine Art Gallery. More information about Deeper Thanks, Deepest Apologies can be found at: http://deepest-thanks-deeper-apologies.com
About Deepest Thanks, Deeper Apologies
Reconciling Deeply Help Faith with Honest Doubt
By Stephen Shortridge
Release Date: Oct. 11, 2011
Hardcover
9781936034574
$18.99
176 pages
Worthy Publishing

Worthy Publishing, a division of Worthy Media, Inc., is a privately held company whose mission is helping people experience the heart of God. Worthy is an independent voice in Christian publishing, managing editorial, marketing, publicity, sales, and distribution from its home offices in Brentwood, TN. Worthy focuses on a boutique list of new books each year, crossing a broad spectrum on genres, including fiction, Bible study, current events, devotionals, biography, leadership, specialized Bibles, as well as spiritual and personal growth. (http://www.worthypublishing.com)